Known Issue: Labor not displayed when added on the Add Labor screen
We have identified a display issue on the Add Labor screen. If a unit has the
Work Required
tab listed, clicking on the green
+
sign does not appear to move or display labor on the right-hand side of the Add Labor window, as shown below: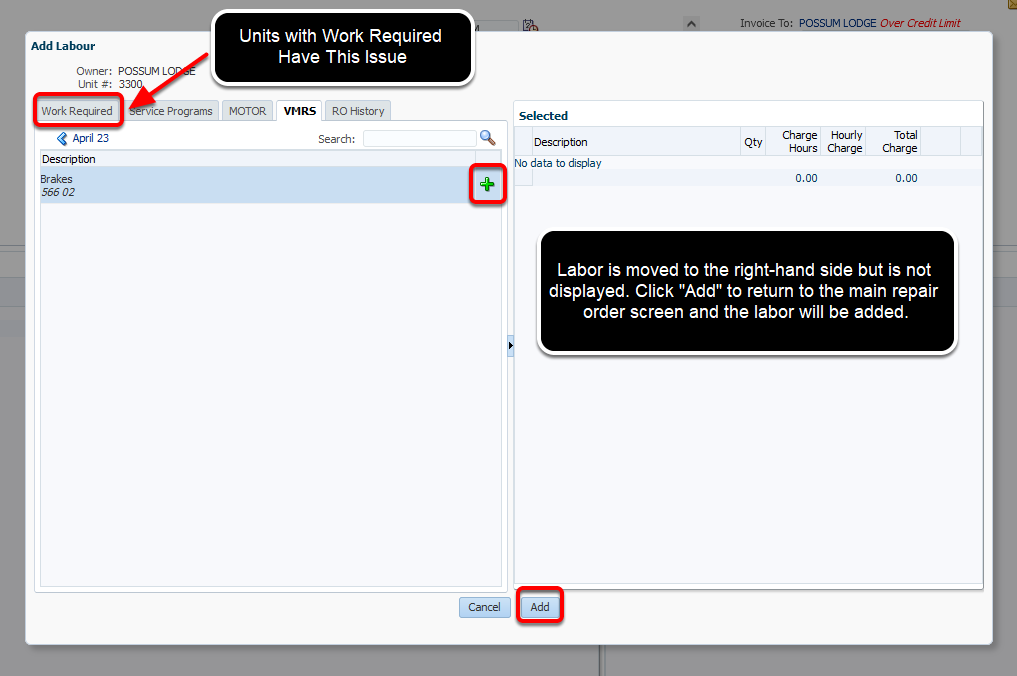 Users can click Add at the bottom and the labor is still added to the repair order and can be edited afterword.

We are working to release a fix as soon as possible.

Related Articles

Overview of the Complete RO Screen (Video)

Introduction Work order invoices can be entered and reviewed from the Complete RO screen. This article provides a general overview of Complete RO. Video Walkthrough Click on the square at the bottom right-hand corner to view the video in full screen ...

Add an Estimate to a Unit

Repair estimates can be created from the Service Board. To access the Service Board, open the Service menu → Service Board. Create a Repair Estimate To create a repair estimate for a unit, click on the Estimate button on the Service Board and then ...

Service Manager - How to add a Technician/setup a new Technician

To Manage your employee or add a new technician to your current employee list, open the Administration menu, select User Accounts, and then select Employee Manager. To add a "New Employee/Technician", click on the green plus 'New Employee' button at ...

Month End: Add Manual Journal Entries and Close Periods (Video)

1 Introduction This article and video provide a walkthrough of the Month End screen and closing process in the EMDECS full accounting system. From Month End you can add manual journal entries, close/open monthly periods, and generate depreciation. 2 ...

EMDECS Tip: Add Required Work to Repairs

Why Does this Matter? The EMDECS Service Board is configured to highlight units in red if there is a red tag or overdue PM / campaign. This brings required work to your attention and keeps the fleet moving and maintained on time! If repair orders ...